Frequent Traveling Companion!
PROFILE ON TRAVELERS – Here's Millie!
By Safari Kay

Today I want to introduce you to my frequent traveling companion, Millie. I met Millie back in 2011 through a mutual friend. Millie happened to be talking to this friend about her desire to go to Africa. Our friend said, "then you simply HAVE to talk to my friend Kay".
I wasn't so much known as 'Safari' Kay then, but with each passing safari, few knew me as simply Kay. But mention 'Safari' Kay, now that got a response. Soon Millie and I were talking on the phone for hours about the possibility of a next great adventure.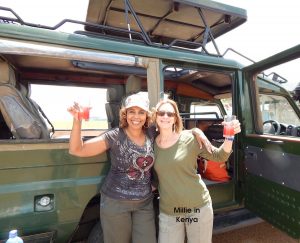 Once we talked, I think she was able to make a determination whether I was someone she might be interested in traveling with.
Although she Lives in Southern California we didn't Meet for a While
She lived in the Los Angeles area so we didn't meet for a while. I was doing presentations in Rancho Cucamonga. That's in California for those that don't know. Millie came to one of those presentations.
Once we met, we found out that we hit it off right away. We both shared a love of travel. Once she realized my safaris, weren't 'camping' that rang a bell. My safaris were more in the neighborhood of 'glamping'. They aren't your traditional 'camping' experience. Learning that, she was definitely IN.
A Typical African Safari takes about a Year to Plan
Once she signed up, her sister and brother in law, who lived on the East Coast also signed up. It was about a year in advance, typical for most of the operating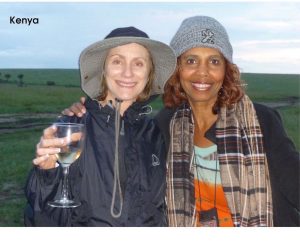 safaris. It was an exciting time. The trip was to take us to Kenya, a group of nine it was.
Millie is a realistic, adventurous traveler, who understands that to appreciate travel you have to appreciate the differences, in countries. Each country offers something different and has its own experiences for you to discover and enjoy. Being realistic is what makes the difference between a happy traveler and a disappointed traveler.
That year went by slowly, as it always does when you're excited about something. But the time we spent together on safari seemed to fly by. You can always hear on safari, "What, we're almost through, oh, no, that can't be right?" But it was!
Two Years Later Millie, her Sister and Friends Joined Me on Safari
Two years later, I had a group going to Tanzania. Millie, her sister and brother in law, Vicki and two other ladies who had also traveled with us went. Tanzania is so unlike Kenya in many ways, that some were disappointed because they felt it didn't measure up with the Kenya experience.
You can be very disappointed when making comparisons, then everything becomes a disappointment. Simply put, what you can do in one country will differ from another! How you plan in one country will differ from another!
The land, the terrain, the planning, the organization, the logistics and the safaris themselves are all quite different. We recognize everyone has personal choices on their country of choice for safaris.
So we at Destined To Travel strive for the best of the best
experiences in any country. However, it is Tanzania where you will have the most personal of experiences. We may not always measure up for some, but for others, they continue to return because of it.
Many travelers to Tanzania, and Kenya return including Millie
Most who have traveled to Tanzania, and to Kenya have returned over and over and over again. Since that time, Millie has joined us in Tanzania several more times. She's even traveled back to Kenya. She and others came to another presentation in the year that my driver, Paul was visiting friends in California.
She was able to meet him prior to travel in Tanzania. What a treat for Paul to meet guests in California and then be able to take them on safari in Tanzania. What a treat for Millie to be able to meet the driver in California and then go on safari with him in Tanzania.
Millie will again join me on safari in Tanzania in 2018. That's to help celebrate my ten years in business. Its my anniversary trip. She's been an integral part of that time. So looking forward to that!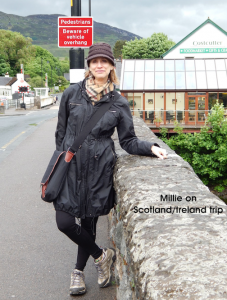 In May of 2016, Millie was invited along with a couple of other agents and myself on a Botswana spectacular 17-day long trip, and she's headed back to Botswana and South Africa with another safari group in January 2017.
Millie's Passion for Travel is Evident
Her passion for travel is evident and since her first introduction to Africa, she is quick to jump at the opportunity of returning to the motherland. She's come to know many of our regulars, the drivers, and many of the repeat passengers. She has traveled on several trips with Vicki and will be again soon. What fun it is to have fun, exciting and passionate travelers along.
But that isn't all, Millie and I have become travel buddies and whenever I'm offered a trip as a travel agent and I can take a companion, Millie is ready to go. We've traveled to Dubai, and back to Kenya. Millie has also joined us in Scotland/Ireland, Cuba, Costa Rica, and soon will be joining us in Morocco.
Those who love and appreciate travel make it a priority, they have that 'you only live once' attitude. They want to experience everything they can while they can. That's Millie. We've had so much fun, we've shared so much and we have so much more to share. I always look forward to those trips where Millie will be traveling.
Many Safari Travelers also go on other Trips with Me
Many of you know that I do other exciting, exotic and adventurous destinations. Millie has been on many of them. Many travelers that go to Africa also go on these trips.
I don't always market to the masses. In spite of that, we're always looking for that next great traveler for the next great adventure. So if you're interested, be sure and contact me.
Admin Charles' Tip: If you want to meet Millie, and she is definitely someone you should meet, ask Kay which Safari or trip Millie will be on.